The answer might surprise you
The question on everyone's minds is whether World War III (WWIII) has already begun, and the answer might be more surprising than expected. To appreciate the situation fully, it's vital to reflect on how previous world wars ignited. World War II, for instance, didn't erupt overnight. Prior to Nazi Germany's invasion of Poland in 1939, often considered the official commencement of the war, there were earlier conflicts and signs of aggression.
Japan, Italy, and Nazi Germany all displayed aggressive behavior. Japan's initial act of aggression was the invasion of Manchuria in 1931. Italy followed suit by invading and annexing Ethiopia in 1936, and Germany annexed Austria in 1938. These early hostilities seemed like isolated regional conflicts driven by individual imperialistic ambitions. Yet, these nations later formed the Rome-Berlin Axis on November 1, which was joined by Japan. Moreover, they established the Anti-Comintern Pact against the Soviet Union and communism.
Fast forward to 2022, when Russia launched a full-scale invasion of Ukraine, an unjustified, unprovoked, and unfair act motivated by Russia's imperialistic dream of regaining lost Soviet territory. Ukraine's resolute resistance demonstrated that even in the face of overwhelming odds, fighting back is worthwhile. The West responded by imposing unprecedented sanctions on Russia to undermine its war efforts. While these sanctions alone won't end the war, they've complicated Russia's military operations.
In response to these sanctions, Putin sought to weaken the West. In winter 2022, he attempted energy blackmail by reducing gas and oil supplies to the EU in hopes of pressuring European countries to ease sanctions. Despite Putin's efforts, the EU remained united and resilient, ensuring gas storage facilities were at least 80% full by November 1, 2022.
Russia's economy and military have taken significant hits. The ruble has depreciated, with exchange rates at approximately 105 and 100 rubles against the euro and the dollar, respectively. Inflation continues to rise, and Russia's defense spending is set to reach about 6.0% of GDP in 2024, up from 3.9% in 2023. Amid these challenges and ever-increasing anti-Western sentiments, Russia is utilizing every available tool to divert Western attention and support for Ukraine.
Putin's Long Arm: Extending Global Influence
From the Sudan coup in April 2023 to the Hamas attacks on Israel, Russia's fingerprints can be traced everywhere, either directly or indirectly. However, the story of Russia's involvement in global conflicts begins even earlier. In the 1990s, Vladimir Putin, then the head of the FSB (the successor to the KGB), was implicated in several mysterious apartment bombings and terror attacks in Russia. These attacks were used to justify the Second Chechen War, which eventually propelled Putin to the presidency. The same tactics of terrorism and fear later became visible in Russia's international actions.
In 2008, Russia invaded Georgia, marking the start of a pattern of aggression against neighboring nations. Until this day, Russia occupies around 20% of Georgia. In 2014, following the EuroMaidan protests, Russia annexed Crimea and initiated the conflict in Eastern Ukraine by invading the Donbas region. These actions established a blueprint for Russia's interference in sovereign nations, which it justified under the guise of "protecting Russian-speaking populations".
Russia's interference in foreign elections has been a persistent concern, reflecting characteristics of fifth-generation warfare (5GW). A recently declassified U.S. intelligence review has revealed Russia's extensive covert initiatives to exert influence on the political landscapes of over two dozen countries across four continents since 2014, incurring costs exceeding $300 million. These operations encompass not only financial support for political parties, officials, and politicians but also the dissemination of disinformation and the use of cyberattacks. Targeted nations include Bosnia and Herzegovina, Montenegro, Albania, and Madagascar. Even countries within the EU can be the target of Russia's interference. For example, the far-right Alternative for Germany (AfD in German) has received donations or other forms of funding for their campaign in exchange for them to be strongly opposed to NATO and the EU, while having a more than favorable opinion of Russia. One of the countries that was also heavily impacted by Russia's interference is the UK, where Russia attempted to influence British public opinion of leaving the EU during the Brexit referendum, reflecting the multifaceted nature of 5GW.
Moscow's election interference poses a global threat to sovereignty and the people's right to choose their governments. As the U.S. exposes these actions, it anticipates Russia will continue covertly financing foreign political entities to maintain global influence and undermine international sanctions. Russia's disinformation campaigns have played a significant role in shaping international narratives and spreading propaganda. The Russian Institute for Strategic Studies (RISI) has been instrumental in these efforts, adapting tactics for different elections and political contexts. These campaigns extend beyond elections, influencing media outlets and international relations.
Russia is also currently running at least 16 disinformation campaigns in different African countries. These campaigns emphasize on the anti-Western sentiment sticking from the colonial era, while at the same time creating a favorable sentiment towards Russia, portraying Russia as "liberators" and "friend of Africa". However, in reality, Russia is only weakening Africa even more by exploiting its resources and its people, while not benefiting the ordinary Africans at all. Russia uses paramilitary groups such as Wagner to gain political influence in these countries. They provide security guarantees to authoritarian rulers in exchange for a lot of resources such as gold, lithium, and diamonds.
Both the European Union and NATO have established specialized units dedicated to examining and refuting misinformation. NATO initiated a relatively small center in Latvia aimed at responding to disinformation. Meanwhile, a pivotal agreement reached by heads of state and governments in March 2015 empowered the European Union to create the East Stratcom Task Force within the European External Action Service, responsible for producing and disseminating weekly reports accessible through its "EU vs Disinfo" website. This platform, along with its collaborative partners, has successfully identified and discredited over 3,500 instances of pro-Kremlin disinformation, spanning the period from September 2015 to November 2017. Additionally, in 2016, the United States government established the Global Engagement Center (GEC), an agency operating within the United States Department of State, dedicated to countering foreign propaganda endeavors.
Russia is getting cozier with the world's terrorists
Russia's ties with the Taliban also demonstrate a shift in Moscow's stance, driven by deteriorating relations with the West. Russia has engaged with the Taliban, even inviting them to economic discussions. The Kremlin is sympathetic to the Taliban's anti-Western rhetoric, aiming to foster closer economic and cultural ties. Russia has pledged to supply Afghanistan with fuel, wheat, and other resources, but the deliveries have fallen short of expectations. The Taliban seeks a deeper partnership with Russia, given Moscow's relatively lax stance on issues like women's education and human rights compared to the West.
In its attempts to deepen ties with Kabul, Russia must navigate security concerns. A suicide bombing at the Russian embassy in Kabul underscored the ongoing terrorism threat, which the Taliban downplays. Russia's readiness to collaborate with groups like the Taliban, considered terrorists, contradicts its portrayal as a counterterrorism advocate.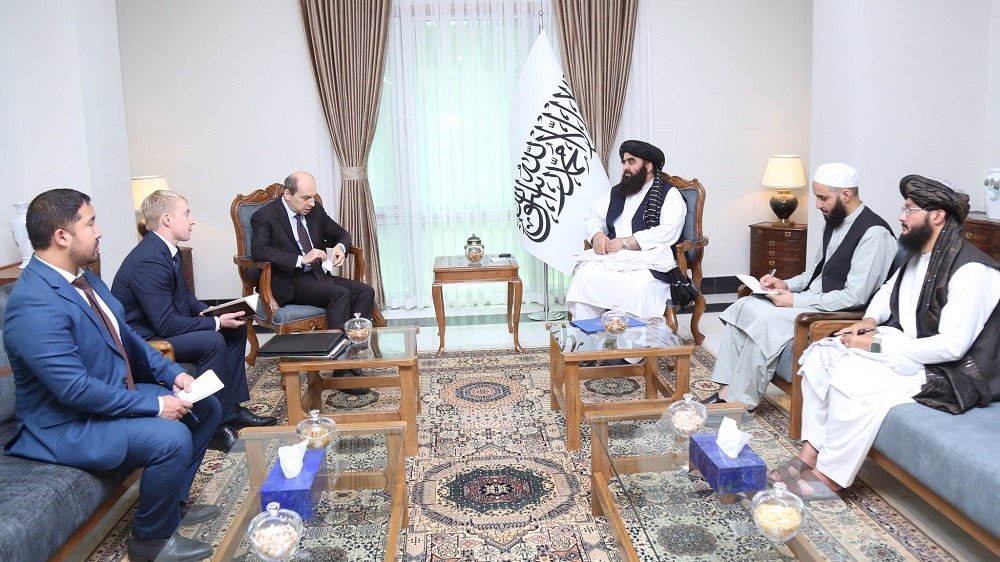 The Hamas attack on Israel has prompted speculation about foreign involvement. While early reports suggested Iran's role, some have turned their attention to Russia. Retired British Army Colonel Richard Kemp theorized that Russia could be stoking conflicts in various regions, including Israel, to divert international attention from Ukraine. Estonia's Marko Mihkelson pointed to the timing of the attack and Russia's connections with both Iran and Hamas as potential indicators of involvement. Russia's ongoing engagement with Hamas is another manifestation of its complex regional relationships. The strained ties between Russia and Israel, heightened by Israel's support for suspending Russia from the United Nations Human Rights Council, have resulted in increased criticism from Moscow concerning Israeli actions related to the Israeli-Palestinian conflict.
The West must understand the new reality
The West must understand that Russia still wants to take all of Ukraine, but also other territories formerly occupied by the Soviet Union, even if it will take another 10 years of war in Ukraine. Russia will do everything it can to weaken the West. What emerges is a pattern of Russia fostering instability in various regions. This is not a coincidence but a deliberate strategy. By sowing discord, supporting proxy forces, and engaging in covert activities, while at the same time spreading disinformation and meddling in other countries' affairs, Moscow hopes to divert attention from its own actions in Ukraine and stress the resolve of Western nations.
In this era, it is essential for Western nations to recognize the tactics employed by Russia. It is not merely a series of isolated regional conflicts; it is a coherent strategy aimed at global instability. To counter this, unity among Western nations is crucial. Russia's destabilization efforts will persist, but a decisive military setback in Ukraine would significantly diminish Moscow's capabilities, rendering it less potent in posing a global threat. A weakened Russia would encounter formidable challenges in supporting international terrorist factions and interfering in the domestic affairs of other nations.
The new Axis of Evil, which includes Russia, Iran, Belarus, North Korea, Hamas, the Taliban, and other authoritarian regimes is crystallizing. We need to be ready to confront these entities simultaneously to safeguard our democracies, freedom, human rights, international law, and our way of life. Presently, the Axis of Evil is already quite formidable but still relatively less powerful than the West. We have a unique opportunity to prevent global instability from escalating into a new world war by ensuring Russia's defeat in Ukraine.
Conclusion
In conclusion, the landscape of global geopolitics is evolving, shaped by complex relationships and interactions. World War III may not have been declared in the traditional sense, but a pattern of global instability and chaos that mirrors the lead-up to past world wars is undeniably present. Understanding this pattern and addressing Russia's role in fostering this instability is critical for maintaining global peace and security. The threat is real, and we must remain vigilant and united. In this evolving paradigm, the European Union's unity and assertiveness against Russia and global terrorism are indispensable. A robust and sovereign EU holds the potential to emerge as a true global power, capable of promoting peace and stability on the international stage.
Our world is at a pivotal juncture, where the question of whether we are already in World War III hangs in the balance. The surprising truth is that it depends on our collective and individual actions. If we don't try to actively stop aggression and instability from spreading around the world, then yes, WWIII has already started. Helping Ukraine survive, or cutting aid all together, won't be enough to prevent authoritarian leaders from initiating more hostilities. Instead, it will only increase the chances of a full-blown WWIII happening later on. The key to preventing a full-fledged world war lies in helping Ukraine secure victory, not merely in providing survival or severing aid altogether. Russia's strategy of sowing global instability demands a united front among Western nations. While imposing sanctions is a crucial first step in isolating Russia, the ultimate path to a more secure world hinges on Ukraine's triumph over Russian imperialism, in order to stop the new Axis of Evil from sowing even more death and destruction around the world. What we do to support Ukraine against Russian aggression is not just a question of today but one that will define our future.
Join the Eurobeat!
The pulse of Europe, delivered daily.
Essential news, right in your inbox. Join the conversation today.
Subscribe now!
Update: On the 27th of October, last Friday, a senior Iranian diplomat engaged in significant discussions with Hamas representatives in Moscow, following their prior talks with Russian diplomats. This development underscores the growing tangible collaboration within the emerging Axis of Evil. The meeting highlighted the critical importance of forging a united democratic front against the forces of global terrorism and imperialism. It also underscored the pressing need for a robust, independent Europe capable of safeguarding our collective interests, freedom, and way of life.
In other news: It has been revealed that North Korea has been supplying an astonishing one million artillery shells to Russia since the start of August. In a parallel effort, the European Union had pledged to provide Ukraine with a million artillery shells but has only managed to deliver 300,000 of them since March. The EU certainly possesses the resources to fulfill its commitment, but what is equally imperative is the political resolve to do so. This commitment goes beyond helping Ukraine survive : it is about empowering Ukraine to secure victory in this conflict as swiftly as possible. The longer this war lasts, the higher the price for everyone, and the more Ukrainians will die. While supporting Ukraine today carries a substantial financial burden in the billions, the alternative of confronting Russia in the future would come at an astronomical cost, both in terms of trillions of dollars and countless more lives lost on both sides.
By Tim De Jong